Introducing a product that can make your vehicle look brand new all the time. We offer you the CAR COAT CERAMIC SPRAY.

Car Coat Ceramic Spray is a SPECIALIZED SEALER SPRAY that is FORMULATED to ENHANCE, PROTECT and MAINTAIN any SURFACE. It has a SPECIAL FORMULA of NANO COATING TECHNOLOGY that PROVIDES a UNIQUE DURABILITY and LONG-LASTING PROTECTION.
It has a THREE-IN-ONE PROTECTIVE LAYER that IMPORVES HYDROPHOBICITY, HARDNESS, and THERMAL RESISTANCE of your CAR'S PAINT. It EFFECTIVELY REDUCES WEATHERING, DIRT, and DEBRIS BUILD-UP on ANY SURFACE. It REMOVES and PROTECTS CAR'S COAT from Bird Droppings, Bug Splatter, Acid Rain, Brake Dust, Pollution and more.  It POLISHES the COAT making it LOOKING BRAND NEW ALL the TIME. It LEAVES a STUNNING SHINY GLOSS FINISH to your car.
Car Coat Ceramic Spray is NON-TOXIC and GREASE FREE. It has a NON-STICK and ODOR FREE FORMULA for a MORE CONVENIENT CLEANING and POLISHING. It is VERY EASY to USE just SPRAY and WIPE!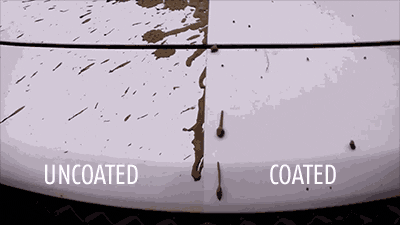 USAGE:
Cleans off dirt and stains on the surface of your car and dry it with a towel. 

Directly spray the cleaner on the desired area.

Use a towel or sponge to wipe evenly until the surface is bright and smooth. 

Enjoy the stunning shiny gloss finish!

SPECIFICATIONS:
Net Weight : 30 / 50 / 100ML
PACKAGE INCLUDES:
1pc x Car Coat Ceramic Spray
2pcs x Car Coat Ceramic Spray