A versatile rotary file that can widely use for deburring metal and wood.
Introducing the ELECTRIC STEEL DEBURRING SET, a CARBIDE ALLOY ROTARY FILE that has a GOOD PROCESSING QUALITY. It is VERSATILE as it comes with DIFFERENT CHANGEABLE HEADS that can be WIDELY USE for DEBURRING METALWORK, WELDING, WOOD and METAL CARVING, MODEL ENGINEERING, JEWELRY MAKING, GRINDING, CYLINDER HEAD PORTING and SCULPTING. It is CONVENIENT as it can be GENERALLY used with HANDHELD ELECTRIC to PNEUMATIC TOOL DRIVE.
Electric Steel Deburring Set is HIGH-EFFICIENCY and provides HIGH-QUALITY finish. It is RELIABLE and EASY to USE, and it REDUCES the LABOR INTENSITY. It can PROCESS cast IRON, cast STEEL, Carbon Steel, Alloy Steel, Stainless Steel, Copper, Aluminum, Marble, Jade, Bone and other non-metallic materials.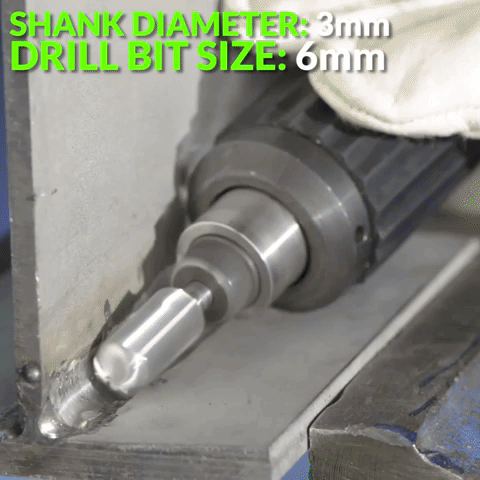 Electric Steel Deburring Set has a LONG SERVICE LIFE. It is TEN TIMES HIGHER than the DURABILITY of HIGH-SPEED STEEL CUTTER and 200 times MORE DURABLE than SMALL GRINDING WHEELS. It is SUITABLE for ALL SKILL LEVEL. It is an ESSENTIAL KIT for WOODWORKERS and ENTHUSIASTS who CLEAN UP WELDS or works with METAL FREQUENTLY.
Product features
Material: Tungsten Carbide, Shank diameter: 3 mm(1/8 inch), Cutting edge diameter: 6 mm(1/4 inch), Total length: 50 mm(2 inch).Please check the size before you buy it.
Double cut head. Suitable for deburring and polishing cast iron, cast steel, carbon steel, alloy steel, stainless steel and other materials.
Excellent for fine detail work, cutting, engraving, carving, touch-up and finishing.
Processing all kinds of metal(including all sorts of hardened steel) and non-metal (such as marble, jade, bone), and the machining hardness can reach to HRC70.
Generally use with handheld electric or pneumatic tool drive (can also be used in machine tool). The speed of the electric or pneumatic tools usually is 6000-50000 revolutions per minute.
1.Tungsten Carbide cutter Rotary Burr Set CNC Engraving Bit
2.Type: Rotary Burr
3.High production efficiency
4.Long service life
5.Easy to use , safe and reliable
Product Description:
Carbide rotary burr set processing all kinds of metal (burr bits for metal carbide burrs for steel including all sorts of hardened steel) and non-metal (such as marble, jade, bone).
Machining hardness reaches HRA65.
For the most work rotary burr set can be replaced with a small grinding wheel and no dust pollution.
High efficiency, high-quality finish, long service life, good economic returns.
Easy to use, safe and reliable, can reduce labor intensity.
Mechanical parts chamfering, rounding and groove processing.
Dual Chamber is crossover lines, not easy to block the lines, more suitable for the object of relatively low-density material.
10 different types: Oval, inverted cone, pointed cone,ball nose cone, ball nose, pointed tree nose, flame, ball, a cylinder with round head, a cylinder with end cut.
Uses:
Cleaning trimming, veining, and weld joint of casting, forging and welding. Finishing all kinds of metal molds.
Impeller passage of finishing processing.
A variety of mechanical parts chamfer, round and groove processing.
Inner hole surface of machinery parts finishing.
The process of various metal and nonmetal sculpture.
Package Includes:
1* Carbide Rotary Burr Set
Specification:
- Material: Tungsten Steel
- Shank diameter: 6mm / 1/4"
-Quantity: 10pcs
- Color: Silver