A quick and easy way to create perfect accurate holes for a more convenient woodworking.
Do you want to have a precise drilling when making holes on wood? We got you covered! Introducing the HANDY WOOD HOLE DRILLING GUIDE.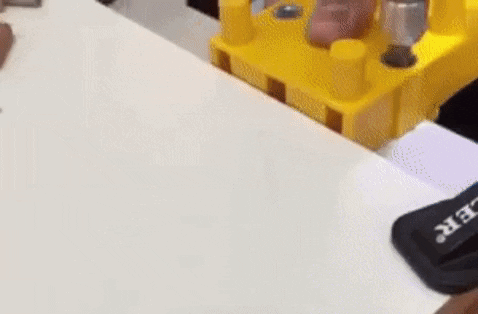 Handy Wood Hole Drilling Guide is a QUICK, EASY, and PRECISE DRILLING TOOL GUIDE that has a JIG PEG DESIGN and HANDHELD METAL SLEEVE for an EFFECTIVE and ACCURATE PRECISE DRILLING. It GUIDES you to a PRECISE FIXATION and CENTERING while drilling and wood working. It is made of HIGH-QUALITY and IMPACT RESISTANT PLASTIC and METAL material for DUARABILITY and LONGEVITY. It has a SUPPORT CARD that has THICKNESS up to 31mm.
Handy Wood Hole Drilling has a FULL JOINT COVERAGE as it is CAPABLE of EDGE to EDGE, T, and EDGE to CORNER JOINTS for more CONVENIENT WOODWORKING. It has ADAPTABLE 3 SIZES DRILL BITS 6mm, 8mm, and 10mm. It is GREAT for FURNITURE FACTORY and DIY WOOD CRAFT making. It is VERY EASY to use. Perfect for BEGINNERS and PROFESSIONALS.
Specifications
Material:

Plastic and metal

Color:

Yellow

Size

: 6x19 cm/2.4x 7.5 in

Drill Brush:

6/8/10mm

Products Included