A five fingered kitchen gloves that is guaranteed to protect your hands from the hottest jobs.
Imagine working in the kitchen and able to handle everything that is hot? GREAT right? That is why we are so happy to offer you the HEAT SAFE KITCHEN GLOVES.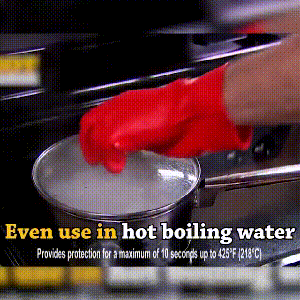 Heat Safe Kitchen Gloves is a RUBBER GLOVES that is SPECIALLY DESIGNED to be TOUGH ENEOUGH to HANDLE ALL the HOTTEST JOBS in the KITCHEN. It is made of HIGH-QUALITY SILICONE RUBBER making it SUPER DURABLE, FLEXIBLE and HIGHLY EFFICIENT. The GLOVES has a RAISED RUBBER GRIPPERS that SAFELY DRAWS the HEAT AWAY from the HANDS. It is NON-SLIP making it EASIER and more CONVENIENT to use.
Heat Safe Kitchen Gloves has a FIVE FINGER DESIGN making it EASY to WORK with your HANDS. It is GUARANTEED to WITHSTAND HEAT up to 450°/235°. It makes COOKING and FOOD PREPARING FASTER and EASIER. With this AMAZING GLOVES you can SAFELY Drain Pasta, Move Sizzling Casseroles, Shred Pull Pork, Grill, Move Oven Racks, Flip Burgers and more WITH JUST THE GLOVES and WITHOUT KITCHEN UTENSILS. It is LIGHTWEIGHT and EASY to STORE and WASH. It comes in DIFFERENT COLORS: Red, Orange, Blue, and Green. It is a ONE-SIZE-FITS-ALL making it SUITABLE for ALL HAND SIZES that is BOTH for Men and Women.
Specifications:
Color: Red; Orange; Blue; Green
Weight: 90g.
Size: 27x 19CM.
Package:
1 PC x Heat Safe Kitchen Gloves