Never loose hope when adjusting your big clothes with this adjustable fastener buckle.
Does your favorite clothe gotten too big for you? Well you do not have to worry as we offer you a product that can still let you rock and wear it. Introducing the INSTANT ADJUSTING JEANS BUCKLE.
Instant Adjusting Jeans Buckle is a HANDY TOOL that can LET you ADJUST and TIGHTEN your PANTS to FIT you PERFECTLY. It is made of PREMIUM QUALITY metal that is STURDY and DURABLE. It has STUDLESS SNAP BUCKLES that FASTENS your JEANS' with SECURITY and STABILITY.
Instant Adjusting Jeans Buckle has a WIDE RANGE of usage as it is PERFECT not just for JEANS but also for Skirts, Collars, Slacks, Dress, Blouses and more. It is SUITABLE for ALL AGES. It has a SEAMLESS EFFECT. It is VERY EASY and CONVENIENT to USE and REMOVE. It is GUARANTEED it will NOT DAMAGE or BREAK your CLOTHING'S QUALITY.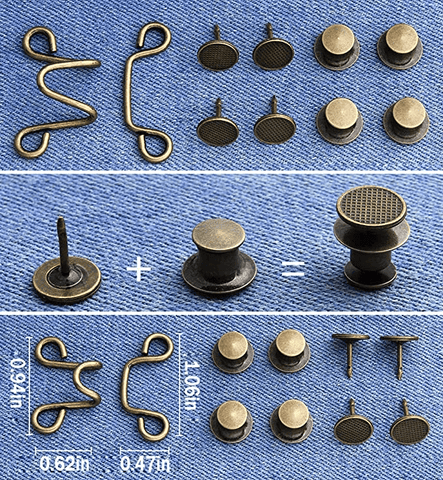 Product Included:
1 x Instant Adjusting Jeans Buckle