A tool that can fix dent on cars and make it look brand new by restoring its original pain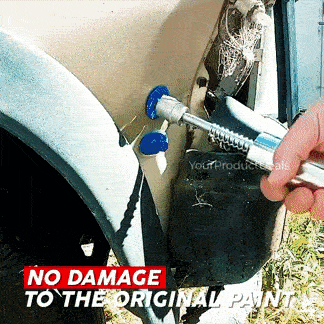 Most of the DENTS and DINGS in our cars would REQUIRE and EXPENSIVE and LENGTHY visit to a professional AUOT-BODY SHOP before a complete repaint of the car which costs another expensive amount.
Here is a product that will save your time and money! Introducing the Non-Paint Dent Repair Set.
Non-Paint Dent Repair set can EASILY and EFFECTIVELY REPAIR minor dents in your car ALL BY YOURSELF. This set does not NEED a repainting as it can KEEP your cars ORIGINAL PAINT JOB. It saves your TIME from leaving your cars to auto repair shops. The set includes a SLIDE HAMMER the only way to repair dents and it is not only for car dents, but you can also use it for refrigerator, motorcycle body, washing machine and hail damage. It is SAFE, EASY and CONVENIENT. It can save you a lot of EFFORT, ENERGY and MONEY.
Non-Paint Dent Repair Set is a package of T bar Slide Hammer, 18x Glue Pulling Tabs, and the PDR Glue to the post purchase page. It is VERY EASY to use just CLEAN the dented area with a WET CLEAN CLOTH and choose which GLUE TAB is closest to the SIZE and SHAPE of the dent then MELT the glue and stick the TAB on the dented area and let it COOL for 2-3 minutes and then use the T BAR tool to PULL the tab GENTLY and keep REPEATING until the dented area is back on its original shape then CAREFULLY remove the TAB and GLUE with a plastic shovel and alcohol.
Package Contents:
1* Car Dent Puller Tools
6* Blue Glue Tabs/ Lifter Glue Puller