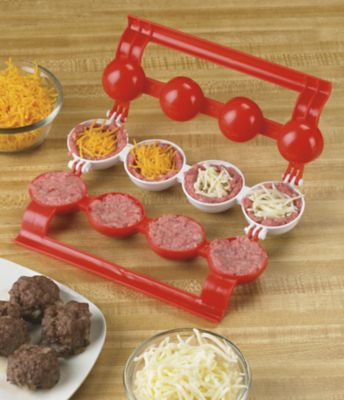 There are variety of meatball recipes out there that are amazingly delicious but, a bit challenging to make. It will take time and practice for you to achieve the proper technique for a perfect meatballs. Why wait then? When we can offer you a quick and easy way to produce perfect meatballs. Introducing the QUICK AND EASY MEATBALL MOLDER.
Quick and Easy Meatball Molder is an ADVANCED KITCHEN MOLDING TOOL that is DESIGNED to CREATE a PERFECTLY SHAPED MEATBALLS. It is made of PREMIUM QUALITY and FOOD SAFE material making it ECO-FRIENDLY, SAFE, DURABLE and NON-STICK to use. It has a PRESSER ATTACHED to INSTANTLY CREATE STUFFED MEATBALLS. It is GUARANTEED to let you EXPLORE VARIETY of MEATBALLS RECIPES EFFORTLESSLY.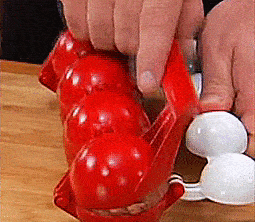 Quick and Easy Meatball Molder can SAVE you from TIME and HASSLE when making meatballs. It can KEEP you AREA and HANDS CLEAN and PREVENT the messy hassle manual molding causes. It can MAKE FOUR BALANCED and EVEN BALL SHAPES for a PERFECT COOKING. It is EASY to USE just FILL, PRESS, and STUFF and SEAL and VIOLA! You have your own perfect meatballs.
Specifications:
Weight: 99g

.
Material: safe ABS.
Sizeï¼18 * 23.7 *4.5 cm

Color: Red and white
Package Included:

1 x Quick and Easy Meatball Molder