Amulti-purpose under sink plumbing tool that works on most faucets!
This lightweight tool with durable aluminum inserts handles many aspects of faucet installation including shut off valves, supply lines and basket strainers. The short, reinforced body not only clears spaces, but is easy to store. It is a great addition to any toolbox.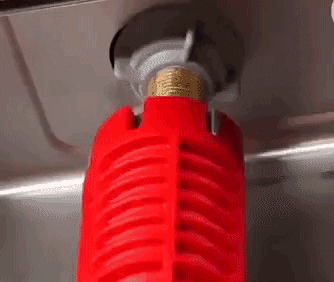 FEATURES
Open slot allows easy placement over supply lines to loosen or attach supply lines.
Aluminum insert for turning angle stop handles without marring chrome.
Holds strainer baskets in place for 3 and 4 slot basket.
Expanded faucet tab nut functionality: 2, 4, 6, and 8 tab basin nuts.
1-1/4 in. hex for stubborn installations
Works on most common faucets
6-sided insert works on 3/4 in., 15/16 in., 5/8 in., 7/8 in. and 1 in. nuts. perfect for supply lines and clamp nuts
Cylindrical Inset has 5/8 in. deep welled sock for common faucet designs
Reinforced Body For Hard To Break Fasteners
The one tool for common faucet installations and sink strainers.
Unique cubed insert provides a variety of common nut sizes.
Ideal for most common 2, 3, 4, and 6 tab mounting nuts.
Wrench for tight shut-off valves.
Retainer for 3 or 4 slot strainer baskets.
5/8" deep welled socket for many single hole mountings Short body for clearance in tight spaces.

Cubed Insert
Reinforced Body For Hard to Break Fasteners.
, ¾, , & 1 Wrenches For Supply Lines and Clamp Nuts

Cylindrical Insert
Deep Welled Sock For Common Faucet Design.
3 & 4 Slot Strainer Basket Retainer.
Plastic Insert

Reinforced Body For Hard To Break Fasteners
2, 3, 4 & 6 Tab Faucet Nut Wrench.

FAQ's
Will this tool work on all faucets?
- For the most part yes, most faucets that use mounting nuts use common nut sizes. There are slots to accommodate various tab nuts.
Is this tool made to remove frozen nuts?
- The tool is made to common nut torque requirements.
What is the maximum nut size on the tool?- 1
Our product is the same as these pictures.If you do not like when you get, we can give you refundanytime.
Package Included:
Quick And Easy Pipe Installer Wrench x 1 (Orange)