With Smart Bottle Water Pump,
you dont have to lift that heavy water bottle anymore!
Food grade water pump,

one-switch operation,Makes Life Easier and Better!
WHY CHOOSE OUR WATER PUMP DISPENSER?
Easy to Use: Simply fasten the small pump on the bottle mouth.One switch operation, totallyhassle free even for kids and elders.
Safe Material: BPA free, food grade silicone hose, 304 stainless steel, high density ABS plastic,

no toxic, and no smell

.
Smart Bottle Water Pump is a small-sized, portable electric water dispenser. It is easy to install and use.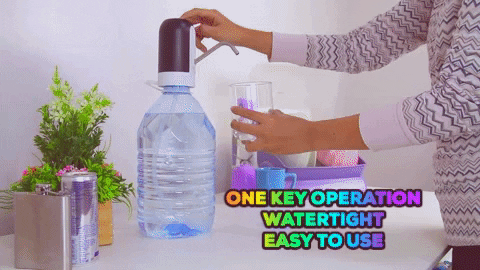 Simply fasten the little pump on the bottle mouth then press the switch, and it will automatically pump
USB Rechargeable Battery:
Smart Bottle Water Pump is highly compatible with a variety of models water gallon bottles. It can be easily recharged through a USB cable, just like your phone! Once fully charged, it can be used for20-30 daysor around 4-7 bottlesof 5 gallon water. No need to charge every day.
LOW DECIBEL DESIGN
Professional noise reduction technology,gives you a quite drinking water environment.
EXTENSIVE USE
Portable device for both indoor and outdoor use like office, home, Kitchen, camping, picnic, activities, etc.
Made of BPA-free, foodgrade silicone hose, 304 stainless steel and high density ABS plastic,Smart Bottle Water Pump is safe and non-toxic. It can be used in both indoor and outdoor environment like office, home, kitchen, camp sites, parties etc.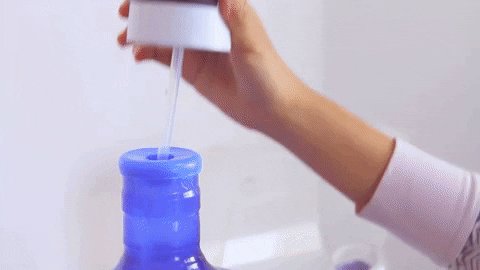 Easy to Setup:

1.Install stainless steel pipe.
2.Install silicone hose.
3.Set on the barrel.
4.Press the button to pump out the water, press the button again to stop pumping.


DIMENSIONS
Material: ABS, 304 Stainless Steel and Silicone
Operating Voltage: DC 3.7V
Power Rating: 3.8W
Charging Time:
3-4 Hours
Charging: Micro USB Charging Cable
Suitable for:
2,3,4,5 Gallon Water Bottles
Size: 2.9*5.1 inch
Hose Length: 22inch
Pipe Length: 4.5inch
PACKAGE
1 * Food Grade Silicone Hose
1 * Micro USB Charging Cable