Have an AMAZING UNDERWATER EXPERIENCE with this new device that can let you SEE and ENJOY the wonders of underwater world. Introducing the SNORKEL FULL MASK.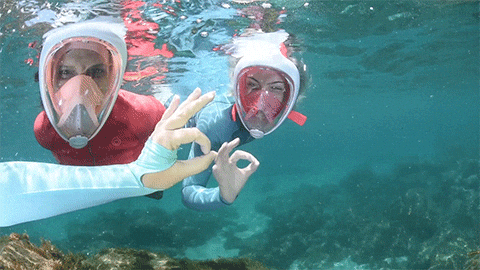 Snorkel Full Mask lets you SWIM and SNORKEL underwater without the TROUBLE of MOUTHPIECE or HEAVY EQUIPMENT like the TRADITIONAL ones.

It is a FULL-FACE MASK that has a TWO-WAY RESPIRATION SYSTEM that lets you BREATHE NATURALLY even underwater.
Snorkel Full Mask has a FULL 180° VIEW and is made of POLYCARBONATE GLASS making it ANTI-FOG that PROVIDES you a CLEAR and PERFECT view of the underwater.

The glass also has an ANTI-SHUTTER design making it SAFE to wear even with waters pressure under 100 METERS.
Snorkel Full Mask has a COMFORTABLE and ADJUSTABLE straps made of ELASTIC BANDS making the mask a ONE-SIZE-FITS-ALL.


It also has a CAMERA MOUNT where your can INSTALL your UNDERWATER CAMERA to document your AQUATIC EXPERIENCE.
Features:
2-Way Respiration System.The WaterLungs let you breathe naturally underwater without a mouthpiece!
Full 180°View.Don't miss a thingduring your aquatic experiencewith a complete
Anti-Fog Polycarbonate Glass.Get a clear perfect view during your swim or snorkel, with our shatterproof plexiglass.
One SizeFits All. Simply adjust the straps to get a perfect, comfortable fit.
Safe And Reliable.The latest industrial constant pressure system ensures that it will not be crushed by water pressure under100 metersof water. (The depth of water pressure that the human body can withstand is10 meters)
PACKAGE INCLUDED
Snorkel Full Mask X 1PC